Treat Yourself with Honeysuckle And Lavender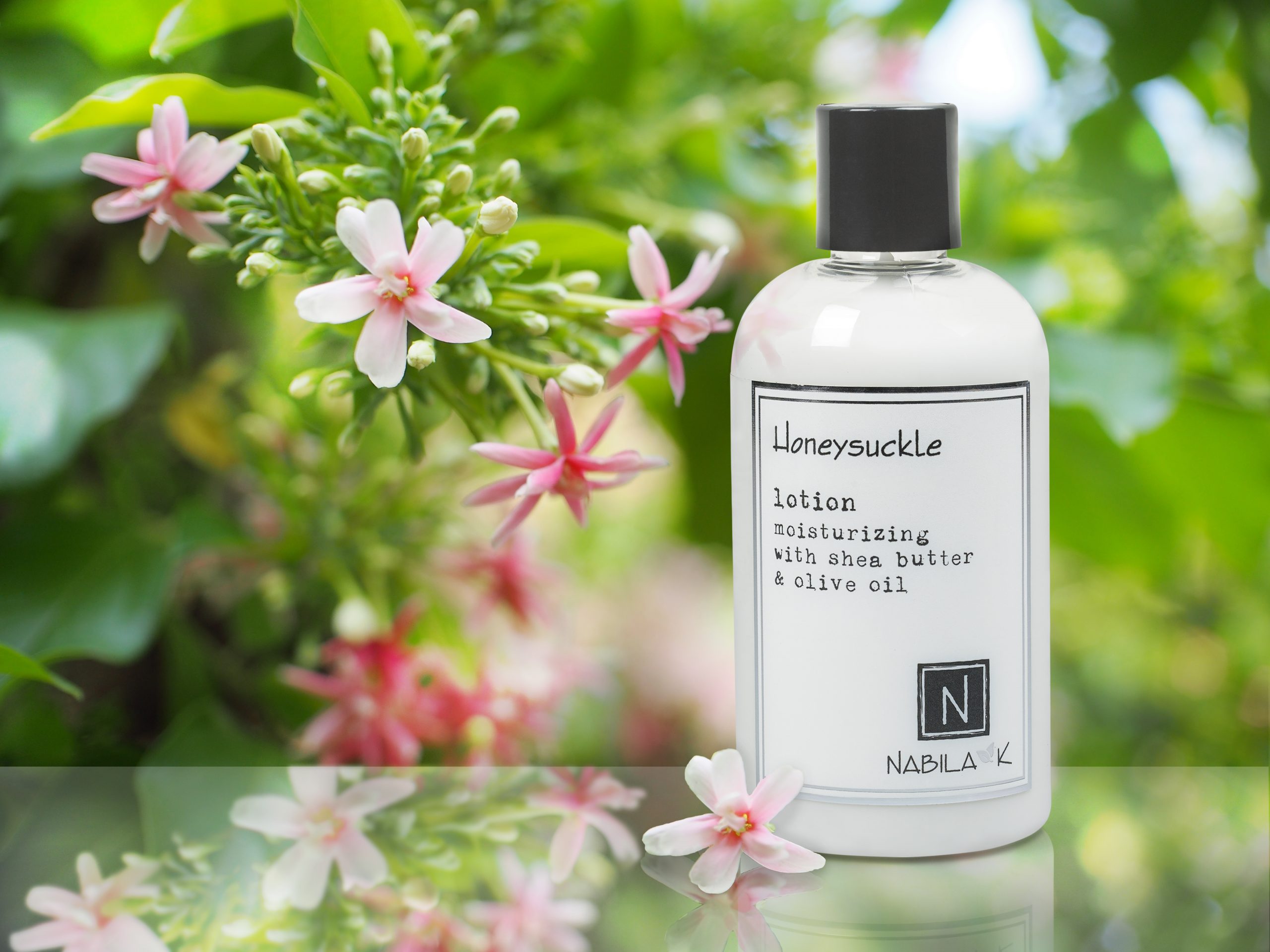 "Until I was a teenager, I used red pokeberries for lipstick and a burnt matchstick for eyeliner. I used honeysuckle for perfume."

–Dolly Parton
Hypnotic Honeysuckle: Sweet and Fair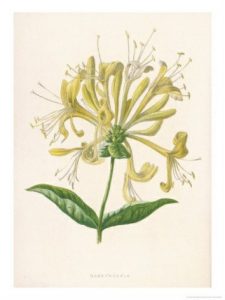 If you pick a fresh honeysuckle blossom from the vine, you can literally suck the taste of honey from the center. Dabbing this natural nectar on your neck or wrist will leave you smelling deliciously sweet and sexy.
"Meanwhile, spring came, and with it the outpourings of Nature. The hills were soon splashed with wild flowers; the grass became an altogether new and richer shade of green; and the air became scented with fresh and surprising smells — of jasmine, honeysuckle, and lavender."

 – Dalai Lama XIV, Freedom in Exile: The Autobiography of the Dalai Lama
So, what do Dolly Parton and the Dalai Lama have in common (other than the fact that they are both utterly amazing)? They love honeysuckle!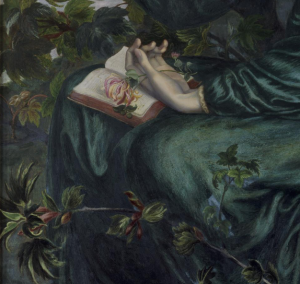 (Close-up detail of Rosetti's "The Day Dream," 1880)
Did you know that even the Pre-Raphaelites wrote of and loved honeysuckle? Dante Gabriel Rossetti found it "sweet and fair" and is known for some of the most beautiful and romantic paintings ever created.
The Honeysuckle

By Dante Gabriel Rossetti

I plucked a honeysuckle where

The hedge on high is quick with thorn,

And climbing for the prize, was torn,

And fouled my feet in quag-water;

And by the thorns and by the wind

The blossom that I took was thinn'd,

And yet I found it sweet and fair.

Thence to a richer growth I came,

Where, nursed in mellow intercourse,

The honeysuckles sprang by scores,

Not harried like my single stem,

All virgin lamps of scent and dew.

So from my hand that first I threw,

Yet plucked not any more of them.
Nabila K Honeysuckle Products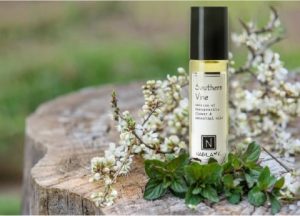 Southern Vine Perfume: Try this heady honeysuckle fragrance for a special night out (or in). This deliciously sweet roll-on perfume mimics the scent of honeysuckle plucked straight from the climbing vine.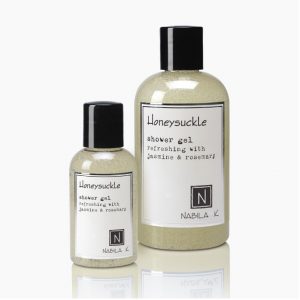 Shower gel: "Summer walks down country lanes, the sun overhead, and the light, airy fragrance of fruited honey surrounding me inspired the creation of this honeysuckle shower gel."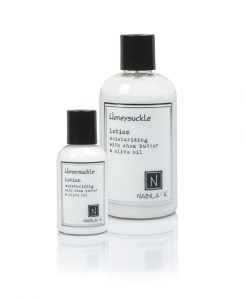 Honeysuckle Lotion (with shea butter and olive oil): Honey, you need honeysuckle! For tired, dry skin, smooth on something sweet.
Lovely Lavender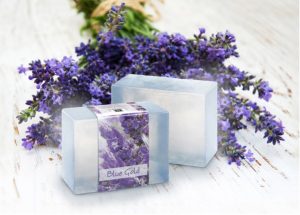 "To make a perfume, take some rose water and wash your hands in it, then take a lavender flower and rub it with your palms, and you will achieve the desired effect."

–Leonardo da Vinci
Lavender (French and English) is one of the world's most popular essential oils and is almost synonymous with soothing sleep and a sensuous, subtle fragrance. Not overpowering but sweet and languorous, lavender is a beloved scent used in all sorts of beauty products. Try Nabila K's assortment of lovely lavender: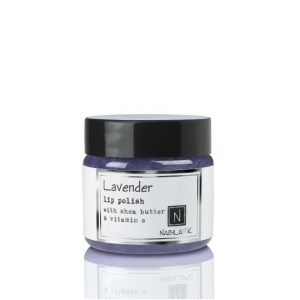 Lip polish: For the perfect lip lock, exfoliate your pout with purple!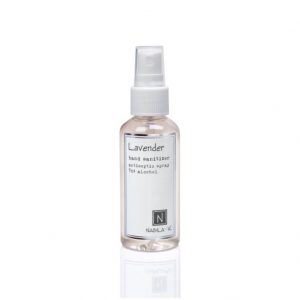 Hand sanitizer is an item we've all been using constantly for the past year so why not make it lovely and upgrade to Nabila K's moisturizing lavender spray?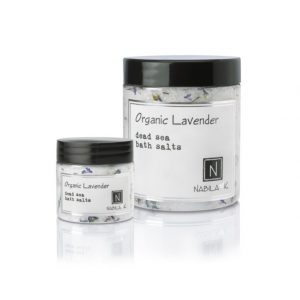 Bath salts: Organic salts from the Dead Sea mingled with lavender buds and essential oils are what your bath has been lacking. For luxury and calm, take a lavender-infused tub.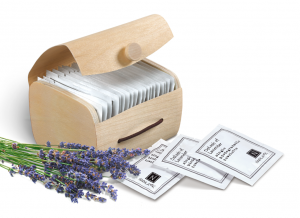 Wipes: The perfect on-the-go pick-me-up is a lavender towelette (with aloe and chamomile). This way, you can reach into your bag and, no matter where you are, refresh yourself with the soothing scent of clean lavender.
Glycerin soap: Pamper yourself with Blue Gold lavender soap from Nabila K. 100 percent vegetable-based, organic glycerin soap is good for the skin and helps to retain moisture as you cleanse.
For more information on honeysuckle products mentioned in this blog (including sizing, ingredients, and prices), consult the links below:
https://nabilak.com/product/southern-vine-roll-on-perfume-with-essential-oils/
https://nabilak.com/product/honeysuckle-shower-gel/
https://nabilak.com/product/honeysuckle-body-lotion/
For more information on lavender products mentioned in this blog (along with several others), consult the links below:
https://nabilak.com/product/lavender-lip-polish/
https://nabilak.com/product/lavender-spray-hand-sanitizer/
https://nabilak.com/product/organic-lavender-bath-salts-product/
https://nabilak.com/product/splash-of-lavender-wipestowelettes/